NEWCOMERS SETTLEMENT SERVICES
If you are a newcomer, immigrant or refugee in Canada, welcome! We are here to answer your questions and support your settlement and integration in your new community by providing the following services and support: 
Settlement Services: Support with access to eligible benefits and adjusting to life in Canada 
Help with applying to all Canadian Federal and Provincial benefits (PR, SIN, MSP, IFH, CTB, GST/PST, LINC, Citizenship, Passport/Visa, Income Assistance, PWD, EI, B.C. Housing, banking, etc.)
Basic language translation/interpretation services
1st language orientations to BC, and relevant information sessions and group workshops 
Food aid through referrals to community programs to help with the cost of living 
Apply for government and social support, language programs and referrals to other support centers in the Lower Mainland 
Professional Support: 
Case management, and developing personal settlement plans for initial needs in Canada
One on one or family counselling for emotional and social issues
Accompaniment trip in the community for settlement tasks (within the recommendations of Health Authorities during the COVID-19 pandemic)
Home-visits to support home life (with the recommendations by Health Authorities during the COVID-19 pandemic)
Transitional life skills facilitation 
Referrals to specialized programs in the Lower Mainland 
Long-Term Community Engagement and Social-Economic Integration: 
Volunteering and community involvement opportunities 
Employment services such as pre-employment readiness career planning, employment connections, resume writing, and connections with vocation training opportunities  
Youth Employment through three levels of leadership training, and building practical experience to enhance job-readiness skills
Promoting and sharing your cultural values and experiences in contributing to an inclusive and multi-cultural Canada 
Referrals to In-House Programs and Resources for all age groups: 
Children, pre-teen, youth, seniors, family programs, volunteer opportunities, access to food security programs (as the Food hub during COID-19 pandemic), access to community grants, community development initiatives, seniors outreach/therapeutic activations programs, youth leadership, children pre-school/afterschool/day camps, school-age childcare,  family drop-in programs, community kitchens, income-tax clinic, legal clinic, ESL conversation, adults literacy programs, and opportunities for community connections, inclusion and cultural celebrations.
Welcome to BC - Orientation for Newcomers
Contact our Case Managers to register for orientations!
Filipino / Pilipino

Spanish / español / Hispanic

Vietnamese / Tiếng Việt

Name:   Avelina Dioces

Email:   AvelinaD@burnabynh.ca

Tel:       236-889-4065

Name:   Monica Tinajero Macarty

Email: MonicaM@burnabynh.ca

Tel:     236-878-9405 

Name:   Duy Tong

Email: DuyT@burnabynh.ca

Tel:     604-396-6955 
Mondays   |  12:00 pm – 2:00 pm   |   In-person at South House
Are you interested in learning how to sew or sewing in general? Then this is the perfect workshop for you. Join us in person at the South house and improve your sewing skills!
Here, you can not only learn how to sew or work on sewing projects you have, but you can also meet new neighbours and friends in a friendly, comfortable environment!
We will be meeting every Monday from 12:00 pm – 2:00 pm at the Burnaby Neighbourhood South House (4460 Beresford Street).
Please contact Karima at karimao@burnabynh.ca or (236) 877-2517 if you're interested.
We look forward to seeing you there!
Seniors Conversation Circle – for Farsi/Dari Speakers
Wednesday, January 18 and 25 | 2:00 pm – 3:00 pm |  In-person at South House
Wednesday, February 15 and 22 | 2:00 pm – 3:00 pm |  In-person at South House
Wednesday, March 15 and 22 | 2:00 pm – 3:00 pm |  In-person at South House
Wednesday, April 12 and 19| 2:00 pm – 3:00 pm |  In-person at South House
Calling all senior newcomers who speak Farsi and Dari, to a new, in-person Conversation Circle! This is a great opportunity to practice your English speaking skills in a safe and friendly environment.
Not only will you get to practice English, you can make new friends, get to know your neighbours, and increase your knowledge about all things local!
Meetings will be held twice a month at Burnaby South Neighbourhood house (4460 Beresford Ave). Please refer to the poster for full schedule and more info – click here for دری /فارسی, and for English click here. 
To register, please contact Parisa at parisas@burnabynh.ca or 236-878-6295.
Grades 3 – 5  |  Saturdays from Jan 21  |  10:30 am – 12:00 pm  | Online
Grades 8 – 10   |  Saturdays from Jan 21  |  12:30 pm- 2:00 pm   | Online
Looking for a chance to LEVEL UP your child's academic skills? Then look no further. 
This program will give your child a chance to review and improve their English, Math as well as other academic skills. Our trained tutors will be able to aid your child's understanding of their school content by going over their homework. We can also provide extra academic materials (worksheets and planned lessons) to best bolster your child's academic understanding.
Your children will be provided with a positive learning environment that will encourage them to engage with the content and establish a positive relationship with the learning process.
Join us as we LEVEL UP our academic skills! 
Children are encouraged to bring their homework with them to sessions.
Who: Newcomer Elementary and High School students (Grades 3-10)
When: Every Saturday via Zoom, starting on January 21st
See posters for more information.
To register, please contact us at giselab@burnabynh.ca or 236-833-6515.
Hosted by BNH's Settlement & Integration Program, the New Neighbours Podcast provides a platform for newcomers to make their voices heard. Every month, we will be interviewing a community member about their experiences about life in Canada or any other topics they choose to speak about such as stories, life lessons, concerns, cultural knowledge, music or information you want to share with your community.
To become a guest on the podcast, get in touch with Duy at DuyT@burnabynh.ca or call 604-396-6955. There is no experience needed. See poster for more details.
Click either button below to access our New Neighbours podcast which highlights the voices of newcomers. Join us as we explore topics around newcomer stories, community-building, lifelong learning, and settlement-related topics.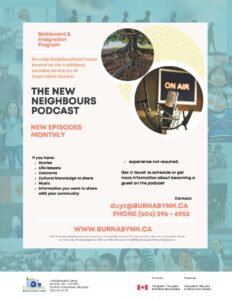 General contact: 
Email: settlementprogram@burnabynh.ca 

Telephone: 604-431-0400 (South House); 604-294-5444 (North House)

Fax: 778-309-7897 (South House)
Language specific contacts: 
Community Connection Coordinator

Telephone: 236-833-6515

Email: GiselaB@burnabynh.ca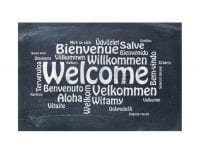 Burnaby Neighbourhood House is a community driven and community funded agency located on the unceded territories of the Tsleil-Wauthuth (səl̓ilw̓ətaʔɬ), Kwikwetlem (kʷikʷəƛ̓əm), Squamish (Sḵwx̱wú7mesh Úxwumixw) and Musqueam (xʷməθkʷəy̓əm) nations with a unique focus on neighbours supporting neighbours.