Community
We are committed to make Burnaby a better place to live and work through bringing neighbours together to build a strong community. 
North

 and 

South Food Hubs
With funding from the United Way Local Love campaign we are now the North and South Food Hubs for Burnaby. This includes coordination for food security issues for Burnaby residents who are experiencing food insecurity.
Supporting individuals and families who have loss of employment and/or are low income with food hampers and grocery gift cards

Supporting low income seniors with prepared meals and food hampers

Grocery shopping and free delivery for Burnaby residents who are unable to get out

Coordinating response in Burnaby for Food Sourcing, storage facilities, transportation and volunteer management relating to Food security issues
We are currently accepting registrations, in-person at either location.
North House — for North Burnaby Residents — 604-294-5444 – foodhubcoord@burnabynh.ca
Food pick-up will be on Thursdays from 10:00 am to 1:00 pm at BNH North House (4908 Hastings St). In-person registration during office hours (Mon – Fri 9:30 am – 4:30 pm).
South Food Hall — for South Burnaby residents — 604-307-2945 – southfoodhub@burnabynh.ca
Food pick-up will be on Wednesdays from 1:00 pm to 5:00 pm at BNH Community Hall (5024 Rumble St). In-person registration only during these hours.
Burnaby residents and service providers please contact us for more information on available food resources.
For any emergency food support, please call Greater Vancouver Food Bank at 604-876-3601 or visit www.foodbank.bc.ca. 
Interested in donating food items? We request that non-perishable donations be low in sodium, salt, and saturated fats wherever possible.
Find our Top Ten Choices for Donation – our recommended list of best options for donation of non-perishable items.
On the last Tuesday of every month, BNH will host "Sharing Cultures" community dinners to bring neighbours together and learn about the diverse cultures that build our multicultural community. Attendees will enjoy a delicious dinner, participate in engaging activities, and connect with neighbours from different backgrounds and ages.
BNH will welcome community members who would like to attend the dinners or who want to help with the organization of the event.
For more information please email volunteer@burnabynh.ca or call 604-431-0400 Ext. 128
We have a mini library of international  available for your reference at our Burnaby Community Kitchen Blog.
Sharing Culture Community Dinner – Syria
Wednesday, May 24, 2023   |   6:00 pm – 8:00 pm   |   In-Person at Brentwood Alliance Church, 1410 Delta Ave, Burnaby
Join us for a fun evening, celebrating the Syrian culture. It will be an opportunity to enjoy amazing traditional food, prepared by community members, with entertainment and activities for everyone. 
Tickets to be bought in advance from BNH North House – Adults (19+) $6, Youth (13 – 18) $6, Children $4 and Under 3 are free.
For more information, check out the poster.
Sharing Culture Community Dinner – Peru
Tuesday, June 13, 2023   |   6:00 pm – 8:00 pm   |   In-Person at BNH South House, 4460 Beresford Street
In June we will be celebrating Peru with our neighbours! It was such a so much fun when we hosted the Peruvian night in North Burnaby back in March, we decided to do it again!
Tickets must be purchased in advance at the South House office reception.
Tickets: $6 adults and youth (13+), $4 children (4-12 years), and free for children under 3 years.
Call: 604-431-0400 or check out the poster for more information.
Stride Burnaby Arts Festival
Greetings artists and art lovers, creatives and the curious, neighbours and visitors!
Proudly hosted by North Burnaby Neighbourhood House the Stride Burnaby Arts Festival builds on what has become a cherished Burnaby tradition. The Stride creative team is developing safe, innovative and low-barrier programming for all ages both online and outdoors. Discover your newest art piece and the works of local poets along the popular Heights Art Walk, take a virtual art studio tour, get inspired during a thought provoking discussion forum and tap your feet at an online concert.
Learn more at www.WeareBurnaby.com.
Will Stride entertain you? Connect you? Refresh you? Will Stride inspire you? Spark curiosity? YES! And more.
Made by neighbours for neighbours STRIDE will be part arts festival, part community catalyst, and all fun! Celebrate Burnaby's art and soul at the Stride Burnaby Arts Festival.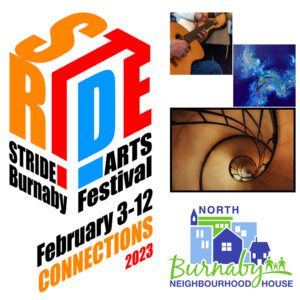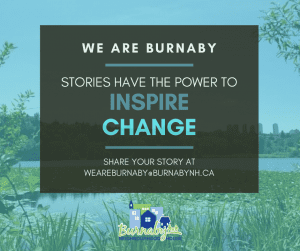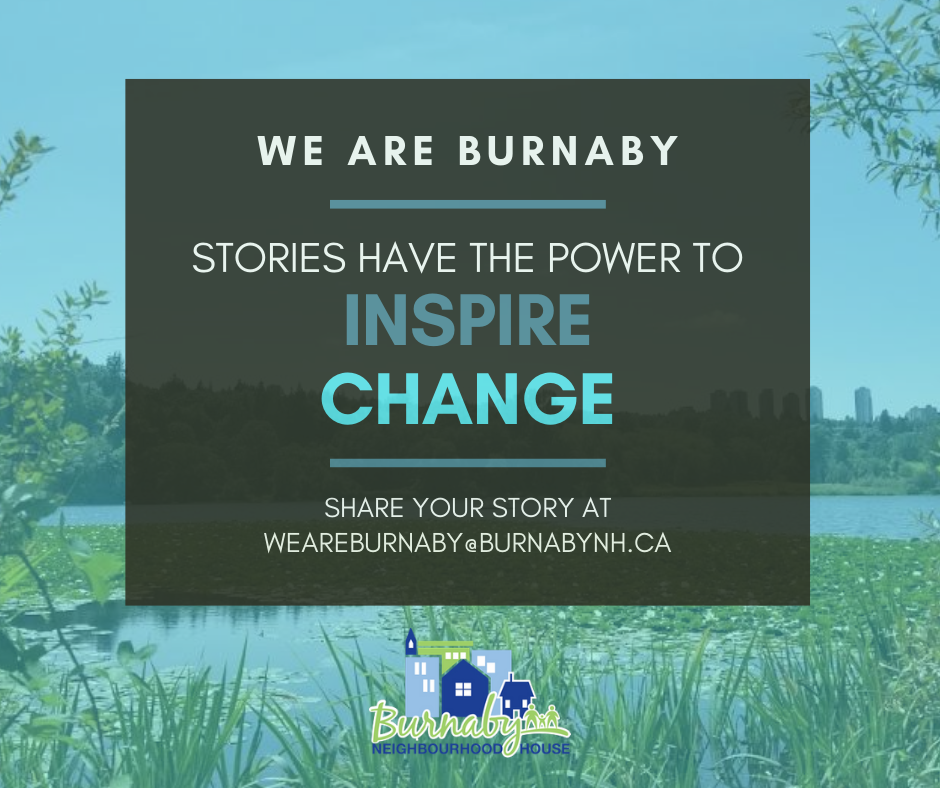 Presented by North Burnaby Neighbourhood House, We Are Burnaby is an online living magazine that aims to foster community engagement and connection by providing a platform to share one's journey and wisdom with their community.
Inspired by feedback from Burnaby community members, We Are Burnaby is a community inspired initiative that celebrates and showcases the resilience and determination of Burnaby community members through written and visual expression and storytelling. Initial seed funding was provided by Simon Fraser University's Community Engagement Competition.
If you would like to share your story, artwork, or any other form of writing and art, you can email WeAreBurnaby@BurnabyNH.ca. 
Learn more at www.weareburnaby.com.
Small Grants Program
Burnaby Neighbourhood House and Vancouver Foundation offer grants of up to $500 to projects organized by residents of Burnaby that will improve local neighbourhoods. It is a wonderful opportunity for neighbours to get together, plan and organize events in their neighbourhood, while developing a sense of community connections and pride. 
Apply for grants between March 7 and April 18, 2023. You can simply visit www.neighbourhoodsmallgrants.ca to complete an online application form, or contact us at 604-431-0400 or email brankav@burnabynh.ca if you have questions or need help with applications.
If you are applying for a grant that is linked the Persian New Year please email Branka directly to fast-track the application.
Website: www.neighbourhoodsmallgrants.ca/our-communities/burnaby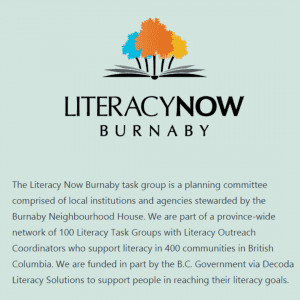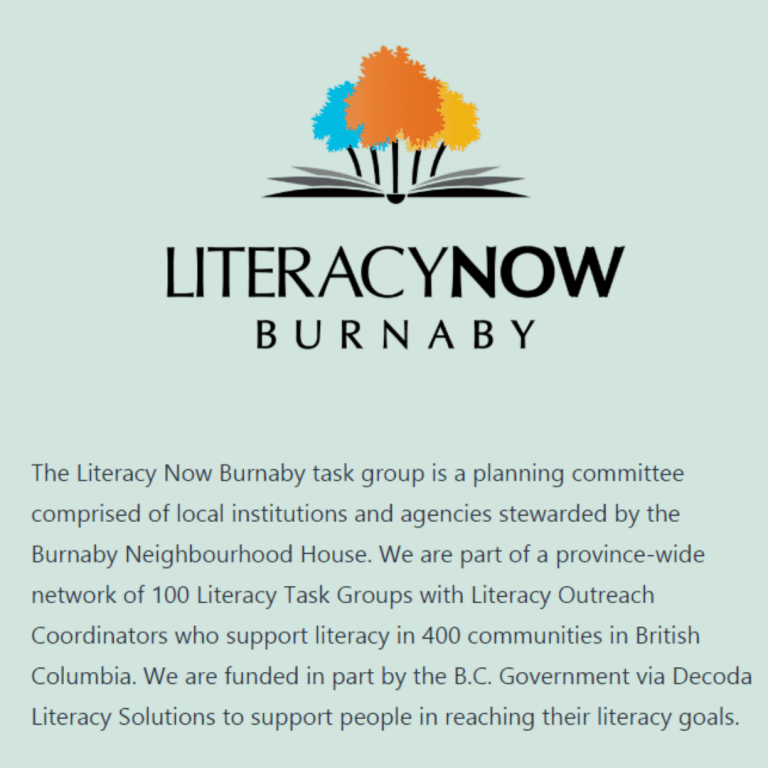 Literacy Now Burnaby is dedicated to working in partnership with community groups and organizations to build and enhance literacy services, programs, and networks in Burnaby. Our mission is to identify literacy needs in Burnaby and seek ways to encourage community efforts to add literacy components and supports to current programs or create new literacy initiatives where needed.
On our website, we host an up-to-date the Literacy Map, where you can find locations of organizations offering literacy programs in Burnaby, including English classes, teaching computer skills, Strong Start for children, library services, employment counselling, and more.
Community groups and individuals interested in furthering literacy in Burnaby are welcome to attend our regular Literacy Now Burnaby meetings and events. To find out more contact us.
Website: www.literacynowburnaby.ca
We are calling on the community to donate your old device to fill a gap for seniors, families or individuals in need who are without tool to connect with others especially during this pandemic.
We ask that the phones or tablets be able to make a difference for the community –that is, be in good working condition. Just make sure to do a factory reset to remove your personal information before dropping off at the BNH South House (4460 Beresford St. –right behind Metrotown Station), and we'll give them a brand new life to others.
Please click the following link for more details: https://burnabynh.ca/wp-content/uploads/2020/05/Refurbishing-devices-for-Donors.pdf
Help us uplift our neighbourhoods by upcycling!
For more information, contact literacy@burnabynh.ca or call 604-431-0400.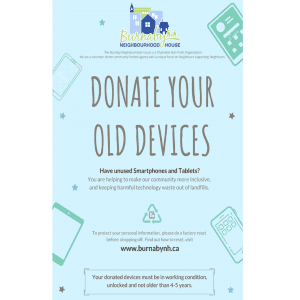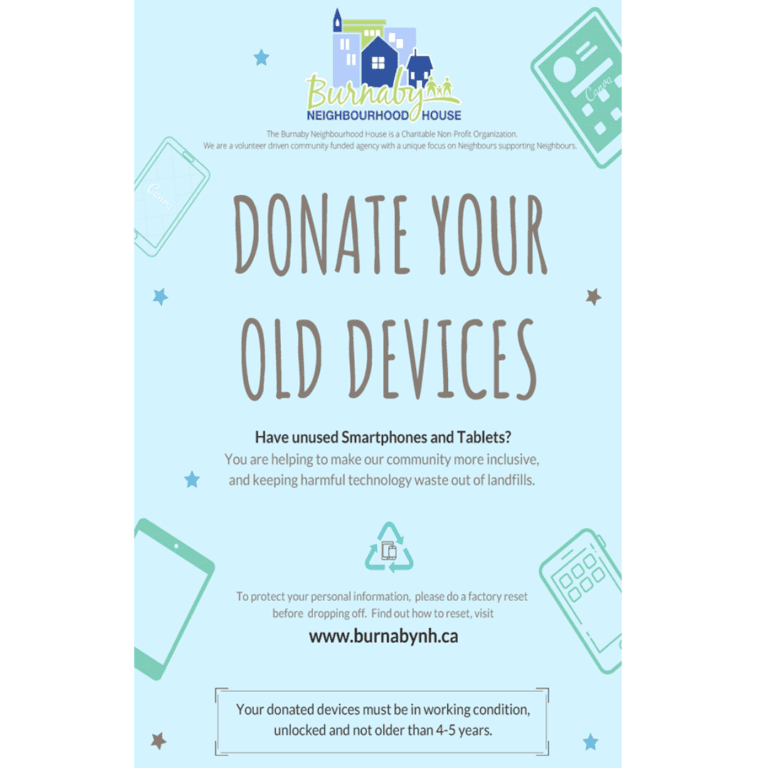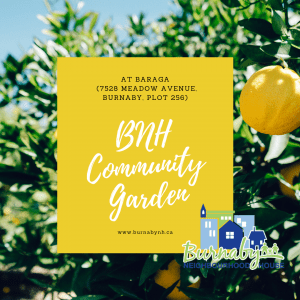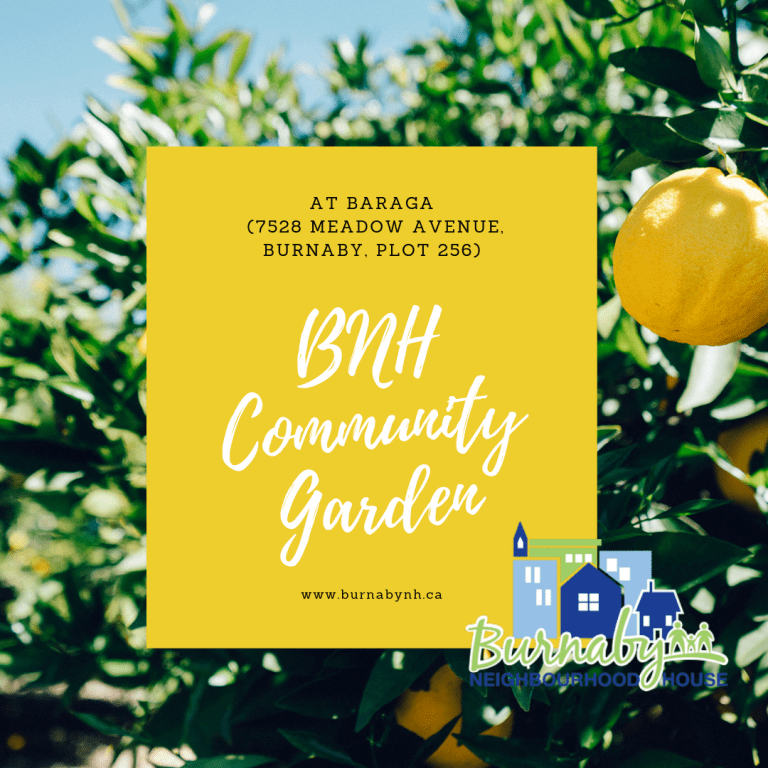 BNH Community Garden at BARAGA (Burnaby and Region Allotment Gardens Association) is a place for all neighbours. On our educational plot you can try everything and receive support.
Just drop by the South House and register.
Open for all Burnaby neighbours.
BNH Open Mic is an open event in the BNH Community Hall on Rumble Street. Do you have talent and no place to perform? No problem! Robert Stewart is looking for you! Open for all Burnaby neighbours.
NOTE: This program is on hold until further notice.
This monthly event is kindly supported by: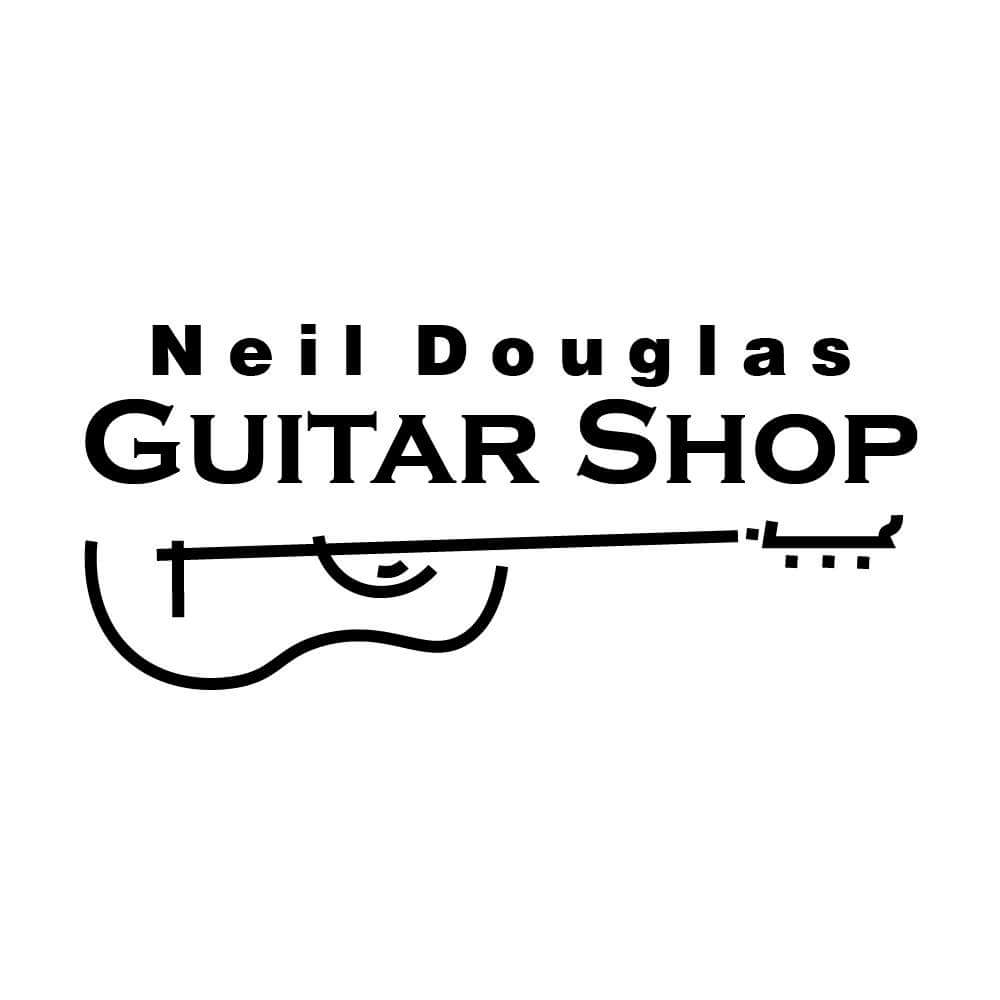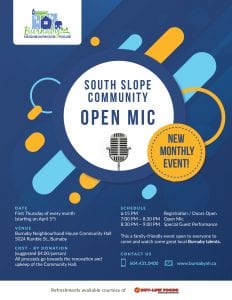 Community Adult Literacy Program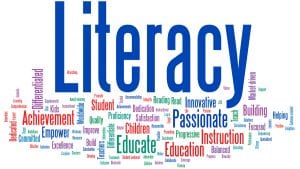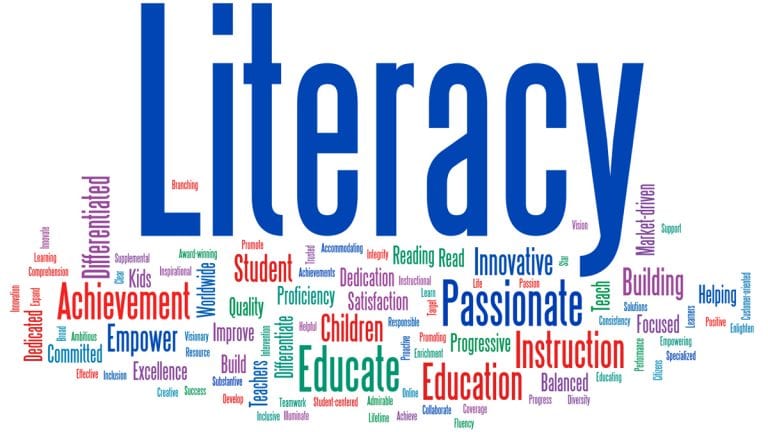 The Burnaby Community Adult Literacy program offered by the Burnaby Neighbourhood House since Dec. 2011, is the one of the only literacy programs available in Burnaby.
We have been working hard to improve and increase literacy in the Burnaby community through the CALP. The CALP supports English speakers who lack basic reading and writing skills by pairing them with a trained tutor who they meet once a week for 2 hour sessions. Learners are assessed before being accepted into the program to know what their goals are and an individual learning plan is created to support their learning curve.
For more information contact Rajeeta at 604-431-0400.