Be a good neighbour. Please give.
Every little bit counts. Did you know government resources only make up 40% of our budget? Many of our programs and services are supported by donors like you. There are many different ways to donate:
Make a secure online gift:
To donate to the Burnaby Neighbourhood House, please click on the Donate Button below. You have the option of making a one-time gift or becoming a monthly donor.
By cheque:
We also accept donations by cheque as well. Please mail your cheque or drop by in person at our South House office: 
Burnaby Neighbourhood House
4460 Beresford Street
Burnaby, BC  V5H 0B8
By phone:
Choose to donate by phone. 
Call 604-431-0400 and speak to a BNH staff.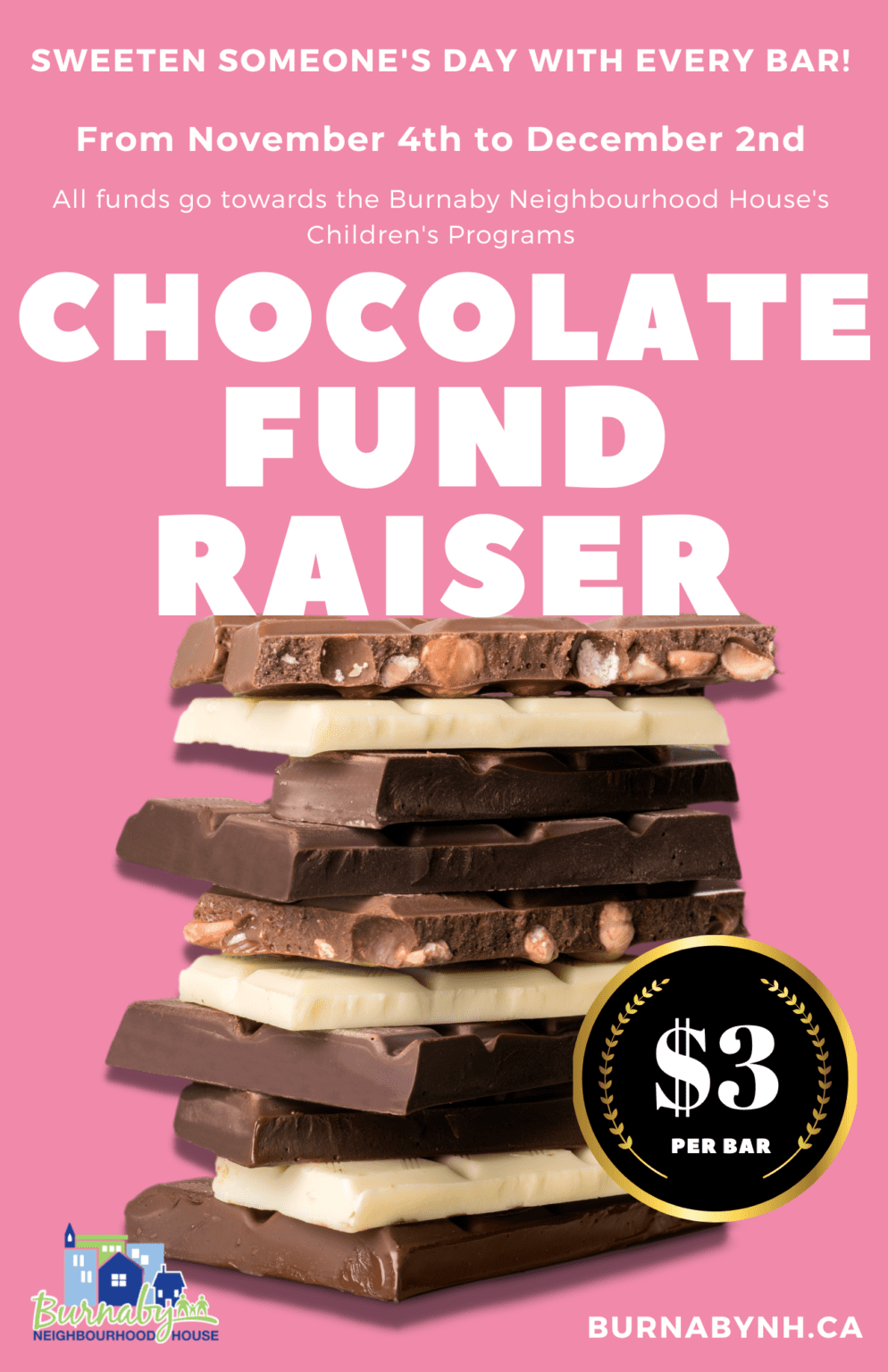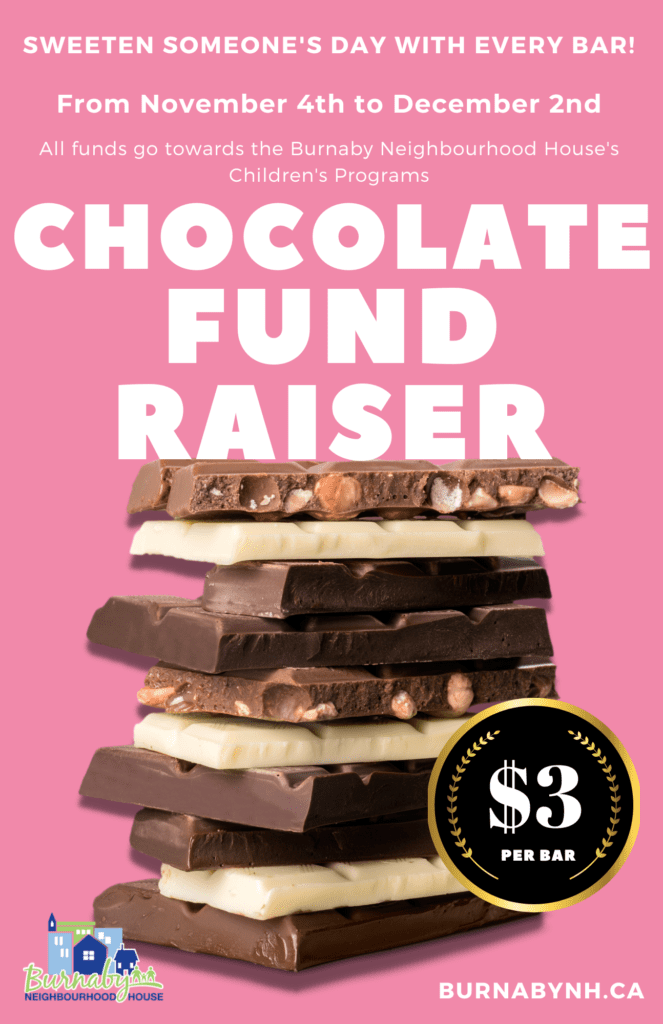 This November, Burnaby Neighbourhood House is selling Chocolate Bars for BNH Children's Programs which are underfunded. This includes our Licensed Preschool and Licensed Before and After School Programs.
When you purchase a chocolate bar, you are enabling us to continue providing quality children's programs and services for over 300 Burnaby families with children 0-12.
Where can you buy a chocolate bar?
All chocolate bars can be purchased at any BNH site. Check out the map below for locations!
What chocolates are we selling?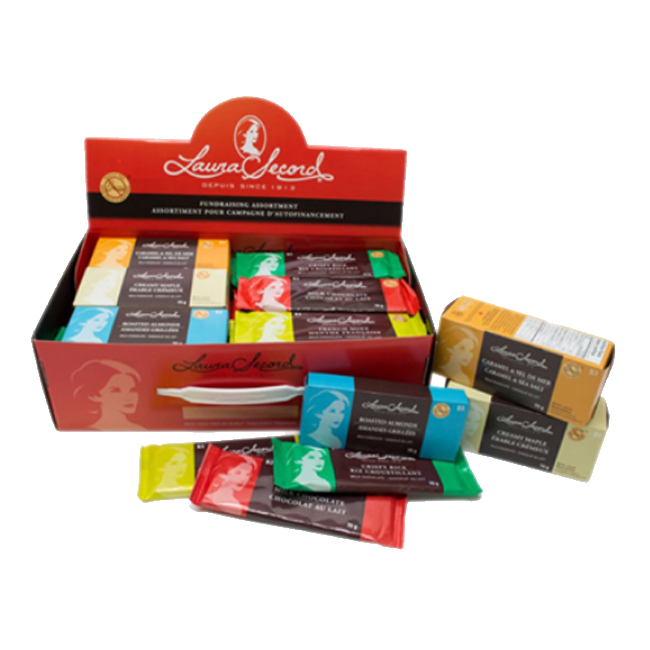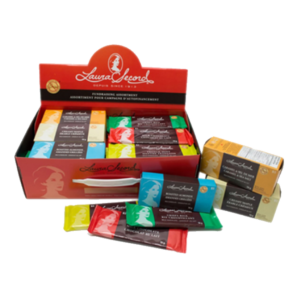 We will be selling Laura Secord Peanut-Free chocolate bars, offering a variety of flavours:
Chocolate covered almonds
Crisps bars
Pure milk chocolate bars
Pure milk chocolate bars with mint
Caramel and sea salt bites
Maples Bites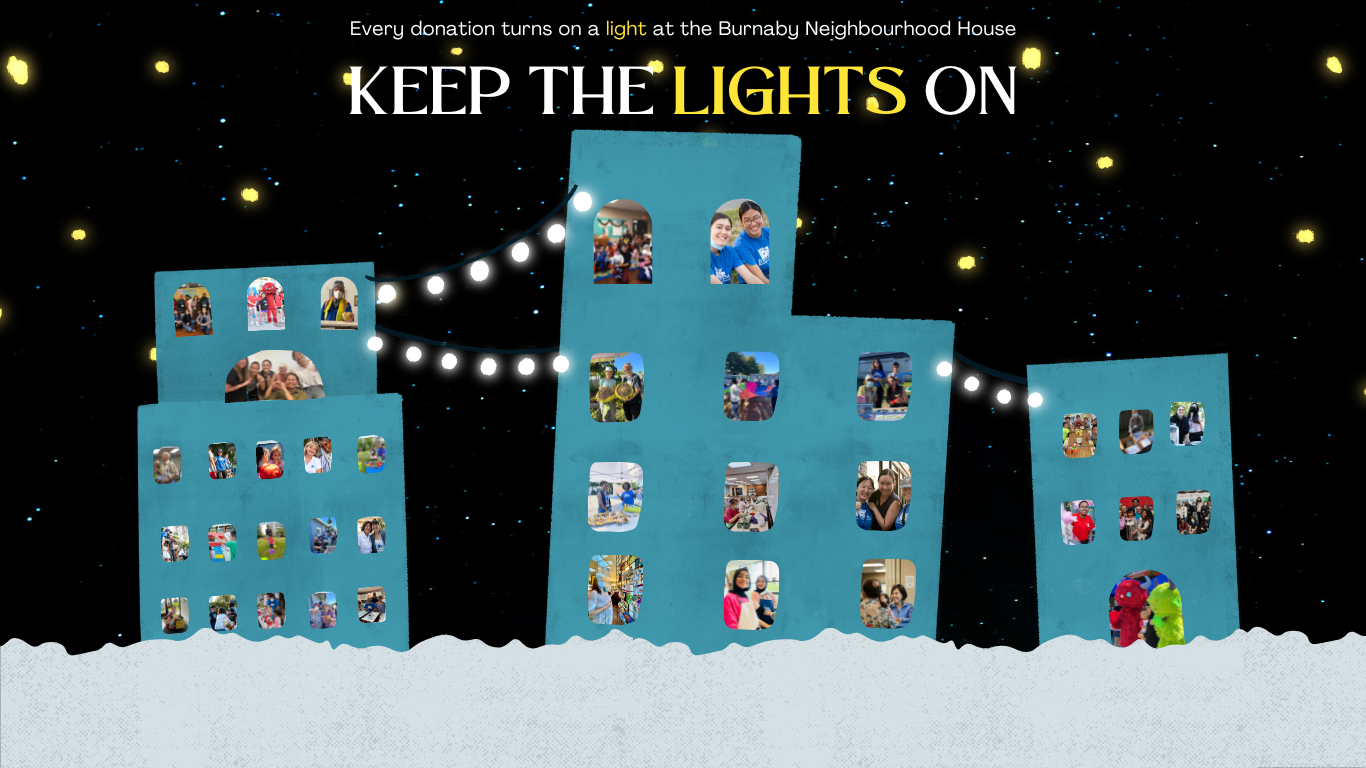 Ways to Give this Holiday Season
There are many ways to give back to the community this year. See below ways to support the programs and services at the Burnaby Neighbourhood House.
This holiday season, please help keep the lights on at both Houses and ensure our programs can continue to respond to the many local needs. Every $2 donation received will turn on a paper light bulb at our locations. Donations $15 or more will receive a charitable tax receipt.
You can also choose to donate:
By cheque (payable to Burnaby Neighbourhood House, 4460 Beresford Street, Burnaby, BC, V5H 0B8) 
By phone at 604-431-0400 to speak to a BNH staff.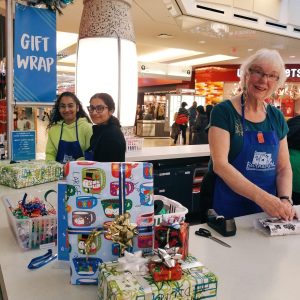 Need gifts wrapped? Consider heading to BNH's Gift Wrap booth at Metropolis at Metrotown (by the Winners/Homesense store). Our trained volunteers will be there from December 1 to 24, ready to wrap your presents by donation!
Funds raised will go towards our Youth Leadership programs.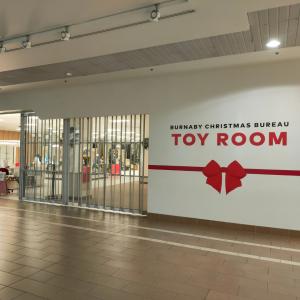 Hold a toy drive and encourage donations from friends, co-workers or clients.  The Angel Project partners with individuals and corporations who host a toy collection, providing printable posters, cards and a wish list of gifts, as well as pickup and delivery of gifts to the Toy Room between Dec. 4 and 15. To host a toy drive, fill out the application.
Just want to drop off toys? New, unwrapped toys can also be dropped off at the Toy Room at the Amazing Brentwood, Monday to Friday, 10 a.m. to 4 p.m. to Dec 19.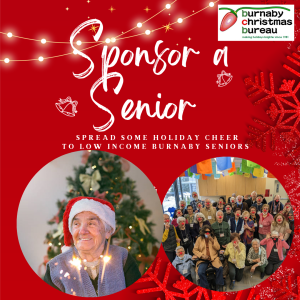 Bring hope and happiness to a senior or senior couple in your community. Sponsors will be directly connected with their senior for a friendly chat, wish list and personal delivery of a hamper of gifts, groceries and other much needed items. 
To sponsor a senior, fill out the application.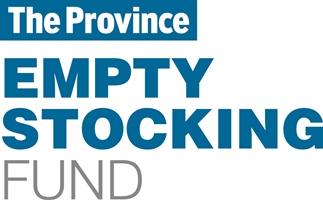 For 105 years, The Province's Empty Stocking Fund has been dedicated to making the holidays brighter for B.C. residents who are less fortunate. With the generosity of our readers and supporters, the fund gives money to 26 B.C. community organizations that provide food hampers and gifts to children, needy families and singles. The 2023 campaign will run from November 1 to December 31 and during this time funds can be donated online.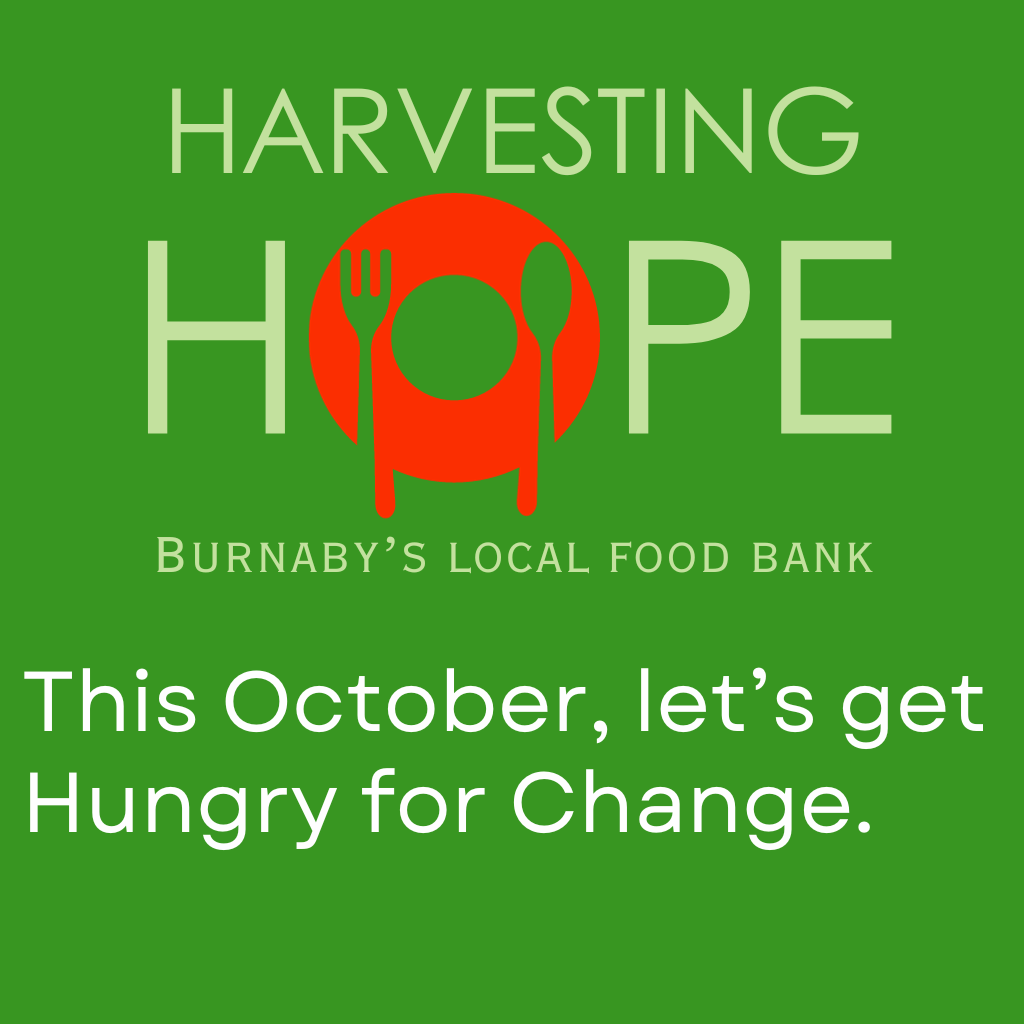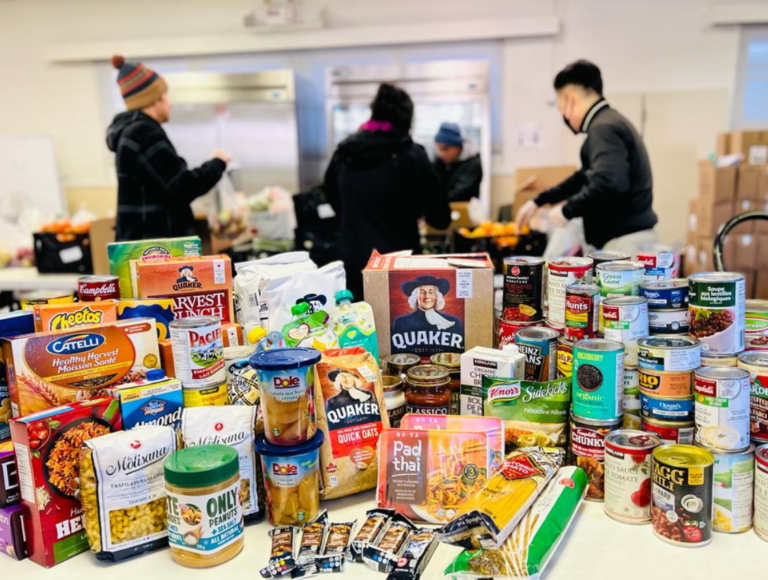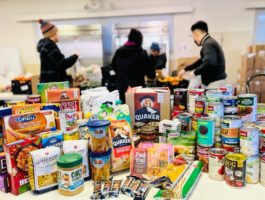 In October, Burnaby Neighbourhood House (BNH) is organizing the Harvesting Hope campaign aimed at raising funds for its two Food Hubs serving the Burnaby community.  BNH operates two Food Hubs – one in North Burnaby Neighbourhood House at 4908 Hastings Street, and one at South Burnaby's Community Hall at 5024 Rumble Street. 
Together, these Food Hubs provide food support to over 1,000 households in Burnaby, serving 1,300 individuals each week and contributing to over 26,500 meals each month.
Throughout the month of October, BNH will be actively collecting cash donations and non-perishable donations. The goal of the Harvesting Hope campaign is to raise awareness about the issue of hunger in our community and to collect essential food items and cash donations to help individuals and families facing food insecurity.
Cash donations are particularly impactful as BNH can leverage its bulk food purchasing power; perishables such as fruit and vegetables can be purchased through wholesalers at a significantly reduced cost.
 Join us this month to help us create a hunger-free community.
Donating Non-Perishables?
Below are the top 10 staple items we are looking for:
| | |
| --- | --- |
| Tinned vegetables, soups, beans | Unsweetened applesauce or canned fruit in juice |
| Pasta and couscous | Canned tuna, chicken or salmon |
| Low sugar tomato and pasta sauce | Healthy canned stews or chili |
| Peanut and nut butters; vegetable oils | Brown rice, lentils, quinoa, dried peas |
| Whole grain crackers and low-sugar cereals | Shelf stable milk and milk alternatives |
Drop off your cash donations or non-perishables at one of our locations below:
South House
4460 Beresford Street
Burnaby, BC  V5H 0B8
604-431-0400

North House
4908 Hastings Street
Burnaby, BC  V5B 1P6
604-294-5444
Brentwood
2055 Rosser Avenue
Burnaby, BC  V5C 0H1
604-299-5778
Where does your donation go?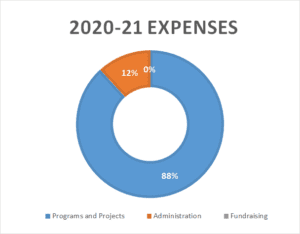 For every $1 donated to the Burnaby Neighbourhood House, 88 cents go directly towards our programs and services.
$50 supports a low income parent to participate in a community kitchen for one month.
$100 supports snacks for a child in our free after school programs for one year.
$500 provides leadership development for one youth.
$1,000 provide nutritious lunches to 10 low income seniors for one year.
$1,500 provides four community dinners for 80 parents, children, and seniors.
Charitable registration number: 87390 3090 RR0001
Tax receipts are issued for donations over $15.