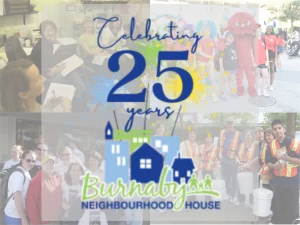 Burnaby Neighbourhood House is excited to be celebrating our 25th anniversary this year.  
In the overall history of  Neighbourhood Houses – 25 is relatively still young.  Some of the Vancouver houses have over 80 years of history but for us in Burnaby this is very special.  Our story of Burnaby Neighbourhood House involves so many people who were part of the journey that has led us to today. 
Please consider donating $25 (or more) in celebration of BNH's 25th Anniversary. Continue scrolling below if you'd like to read about our story.

OUR STORY:
Burnaby's Neighbourhood House started with a small group of residents and service providers who had lived and experienced the magic of Neighbourhood houses in Vancouver and knew they could do the same for Burnaby. It seems that starting a not for profit was the easy part – 5 residents threw in $5 each to pay for the registration. South Burnaby Neighbourhood House was registered as a Society on April 10th 1996. It would be the next few years where we would have to pave the way for the Neighbourhood House movement to take hold in the City of Burnaby.
Community Building and connection was the foundation, and connecting with local neighbours and service providers in South Burnaby who shared the vison became the strength. If you didn't know what a Neighbourhood House was, it was our job to bring you onside.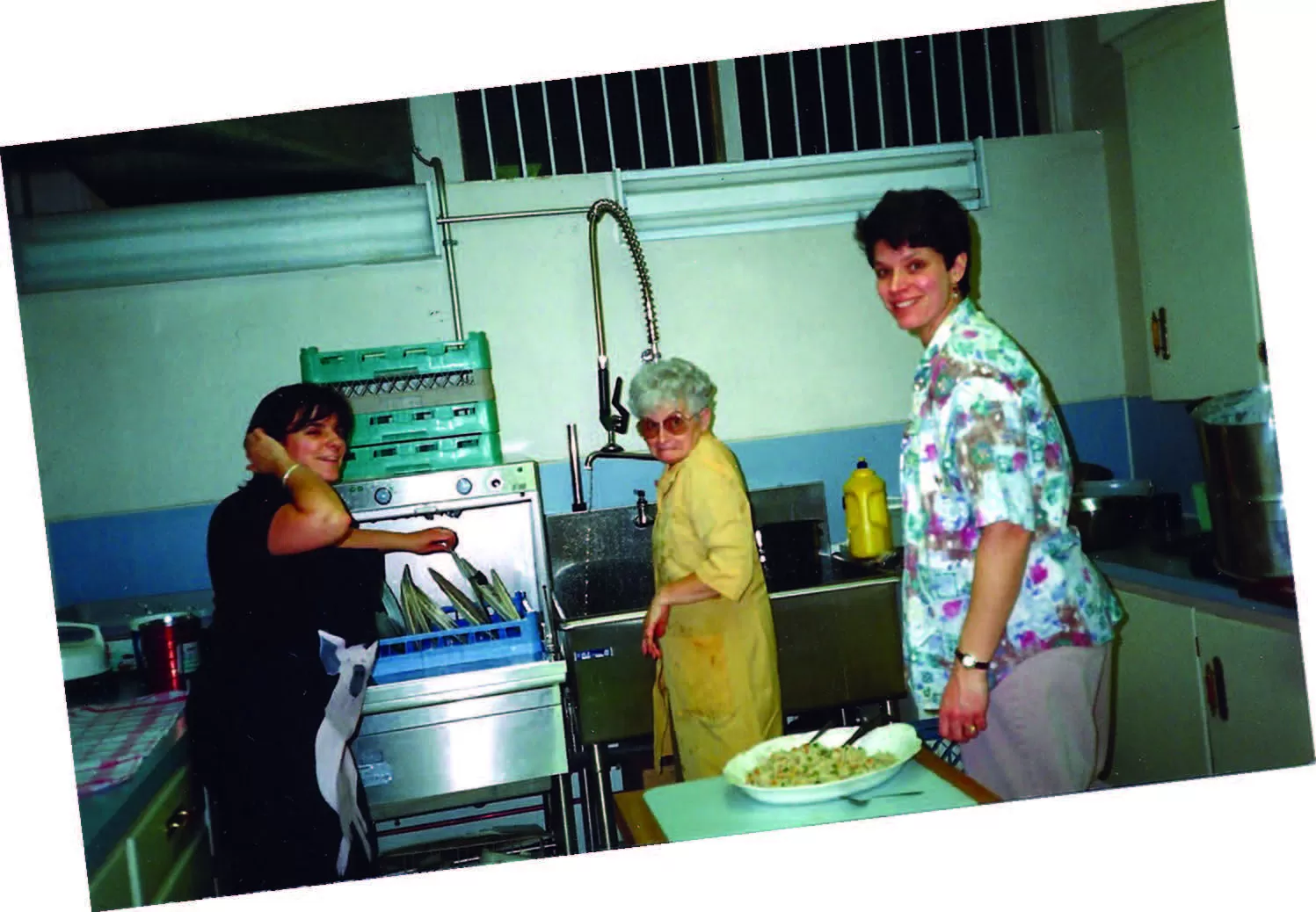 With no physical location and no staff, the South Burnaby Neighbourhood House relied on volunteers and community spaces. Community dinners were hosted in a church basement and connections were made with the community schools and centres to spread the word and invite neighbours. This was done monthly and the focus was on promoting the value of Neighbourhood Houses and community connections.
It was quickly apparent that our biggest challenge would be money and space. You couldn't get funding if you had no space and you needed space to get funding. Our solution was to partner on different ideas that would lead to money.
A major milestone was when we got charitable status in 1998 and donations could be received. From that point on, South Burnaby Neighbourhood House could begin accepting donations and we could apply for grants.
In 1999 – a major breakthrough happened – a new bingo hall was opening up at Middlegate Mall, (where Highgate mall is right now), and they were accepting applications from charities to be connected to that hall. We were accepted and we could expect to receive monthly revenue.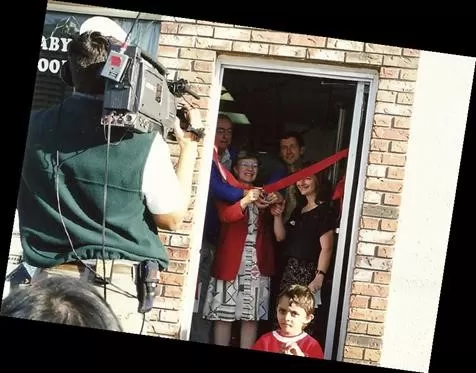 Although we had always thought we would be in the Edmonds Neighbourhood, opportunity called for us in Metrotown and we found a small vacant storefront on Jubilee Avenue that we rented and gave us our first home.
Funding was secured and South Burnaby Neighbourhood House hired our first staff member; Kimberly Barwich was hired as the Program Coordinator. With only one staff person, the board was hands on with operations and we continued to focus on bringing in local neighbours to help out. The storefront became a place where neighbours could drop by for coffee and connection.
By 2000, volunteers were offering English conversation classes, and we received project funding to support volunteer coordination and to start a youth leadership program.
We also responded to a community need to set up our very first before and afterschool daycare centre at Maywood School. This was our first fee-based program and we would soon discover that responding to the daycare crisis would be our focus. It would lay the foundation and the South Burnaby Neighbourhood House would continue to grow from this point.
In 2001, the South Burnaby Neighbourhood House continues to grow; the adjacent space at Jubilee Avenue became vacant and we took it over to have more program space.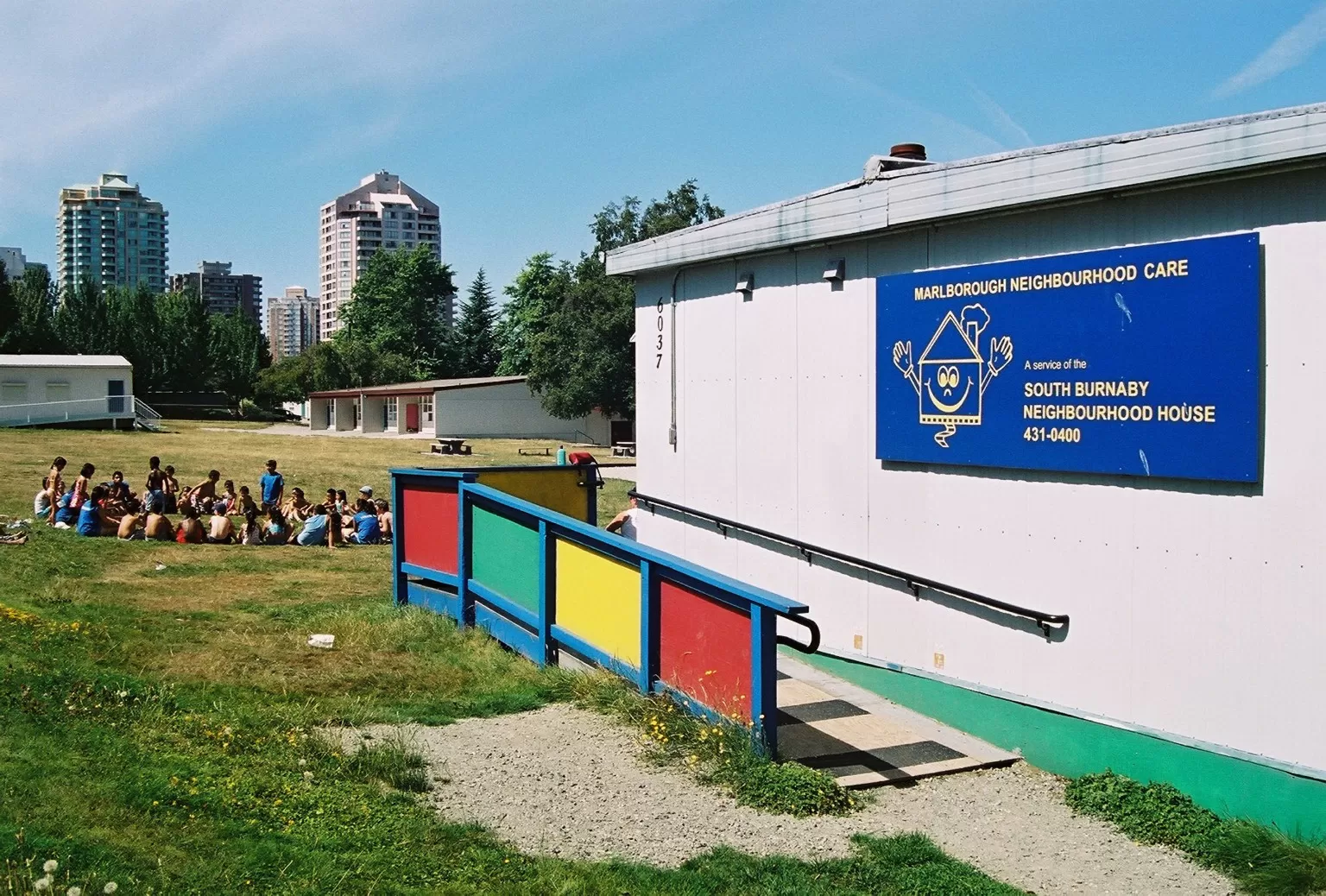 This same year we worked with parents from Marlborough Elementary to purchase portables and build our second Out of school care site.
Another milestone was achieved with the Alexandra Foundation providing funding to hire an Executive Director. With the blessing from Association of Neighbourhood Houses and South Vancouver Neighbourhood House, Antonia Beck was seconded from her job of South Van's program director for a one year term in the role of Executive Director. Once in place it was clear that there was no going back.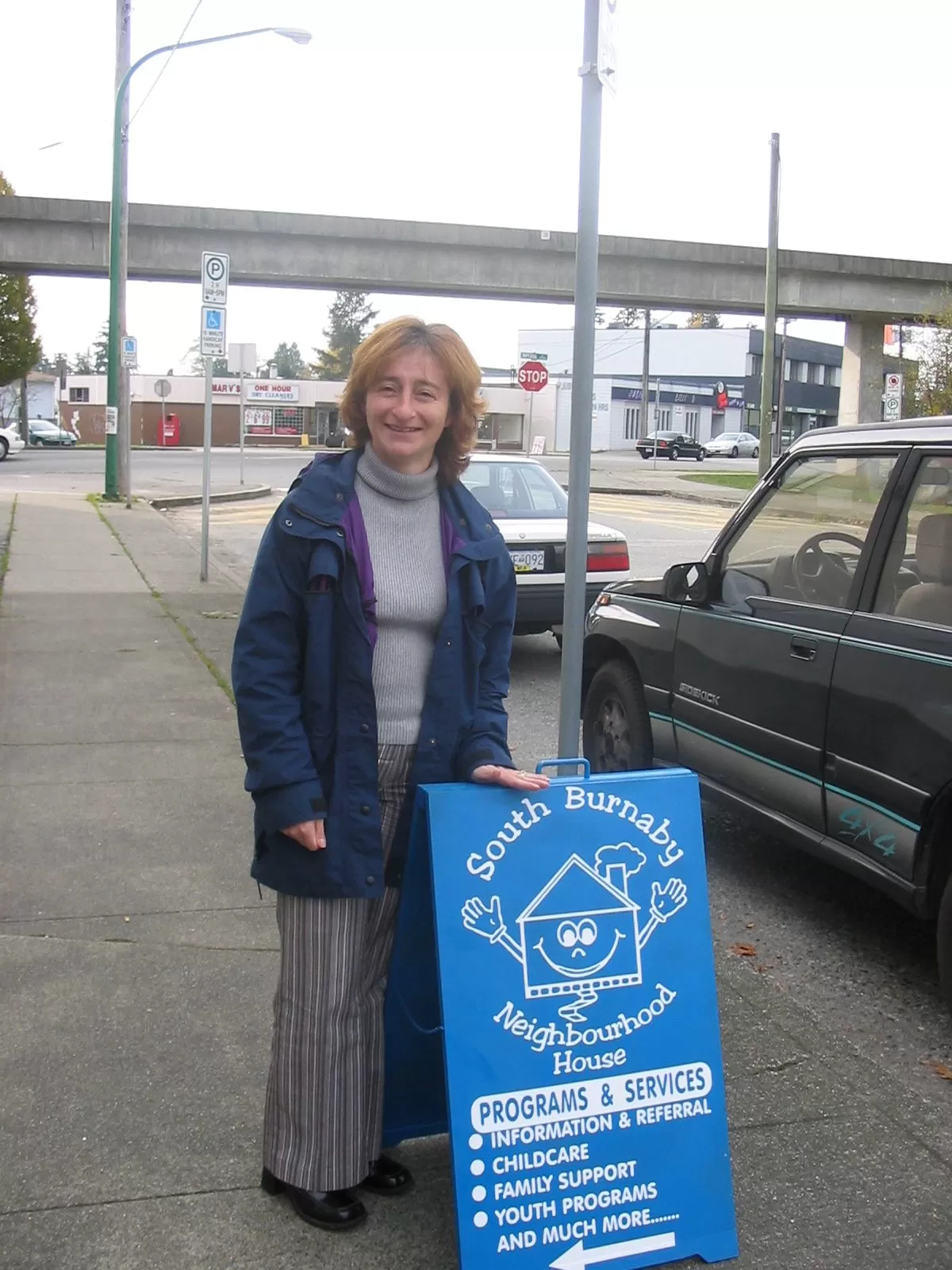 2004 – Bursting at the seams, we were very pleased when the storefront at Jubilee and Imperial became vacant and South Burnaby Neighbourhood House expanded space yet again.
We held an Open House "Neighbourhood House Opens" – and the Burnaby Mayor made a promise of a permanent home – which wouldcome 10 years later.
Community building and fundraising went hand in hand. Our strategy was to bring everyone on side with us and we did!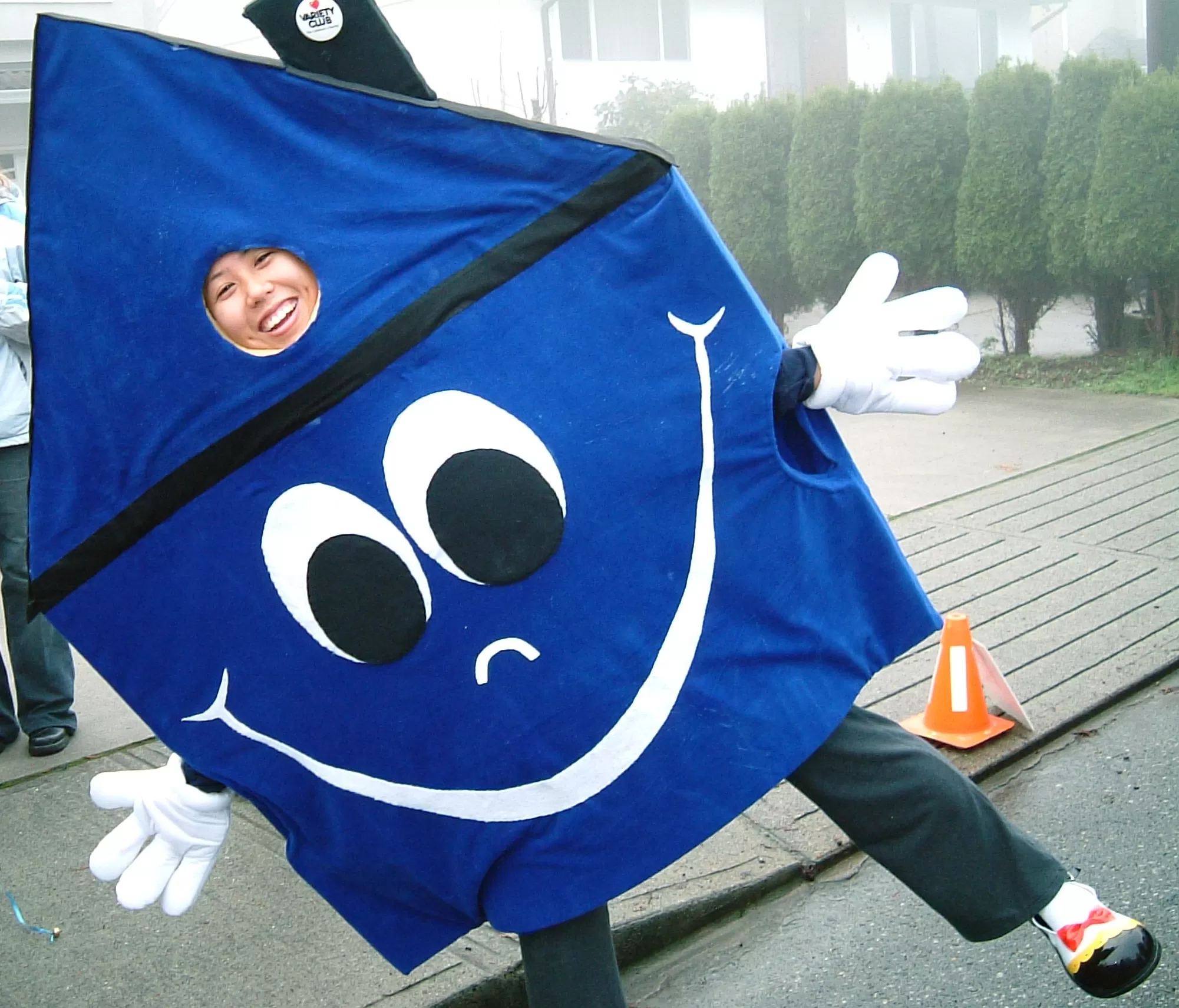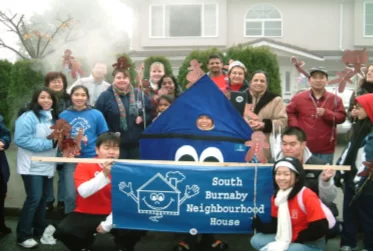 This included Santa clause parade; community dinners and gatherings; Annual Diamond Ball Gala and the very fun Car Rally.
At the same time we continued to engage neighbours and build our home away from home for so many neighbours.
It didn't take long for the new space at Jubilee and Imperial to be bursting at the seams – literally and physically! As we added projects and staff we began renting the apartments upstairs as they came available.
As already mentioned, Burnaby had a serious need for school age childcare and the Neighbourhood House stepped up to respond.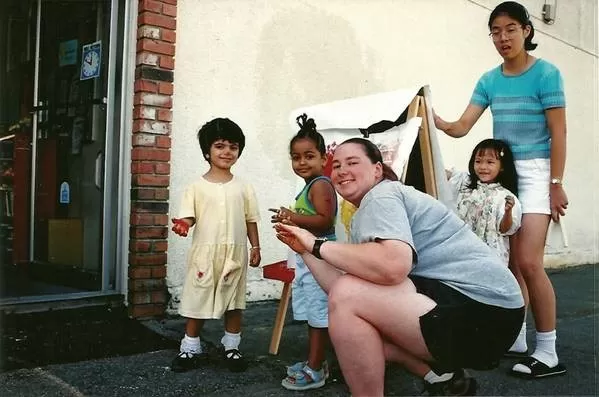 Burnaby Neighbourhood House worked with parents and the school district to set up childcare programs. We were averaging one a year resulting in 9 before and afterschool program sites serving 12 schools. We also responded to the need for licensed preschool establishing 3 program sites. Incidentally, it was Sara Shaw who moved into the role of Director of Childcare programs. Sara started her Neighbourhood House journey in 2000 as a volunteer doing her 3 month practicum for her schooling.
A Neighbourhood House provides a whole continuum of programs and supports to people of all ages and it was apparent that we had a missing link —-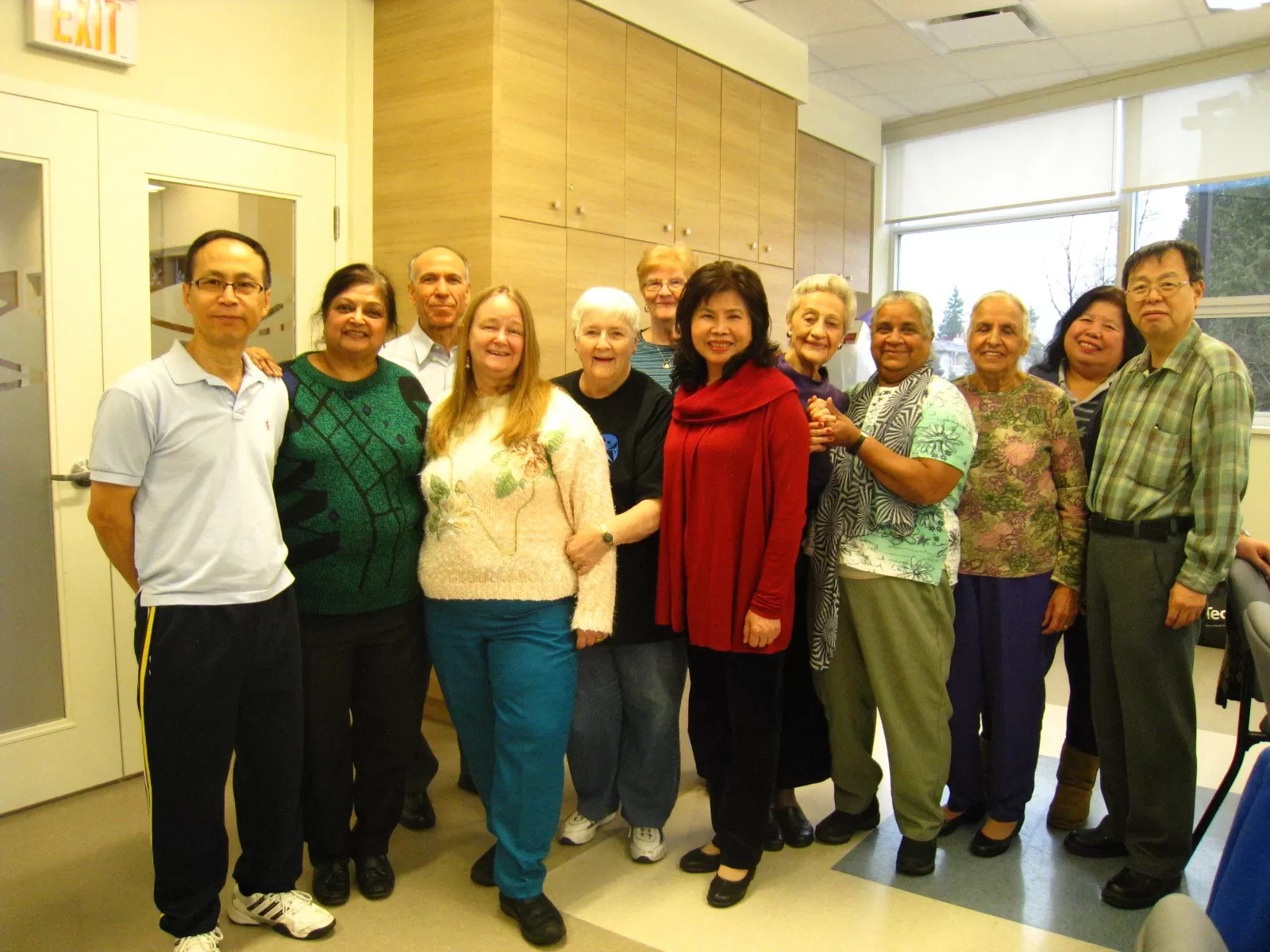 In 2010 we engaged seniors in our community and received funding to start a program that would bring seniors into the Neighbourhood House.
From that point on, the South Burnaby Neighbourhood House was a truly full fledge operation Neighbourhood House with interconnected programs and embedded engagement of residents of all ages and diverse backgrounds.
There were many celebrations of achievements but the most significant was in 2014 when we moved into our forever home arranged through the City of Burnaby with a density bonus arrangement with a developer.
This was our dream come true.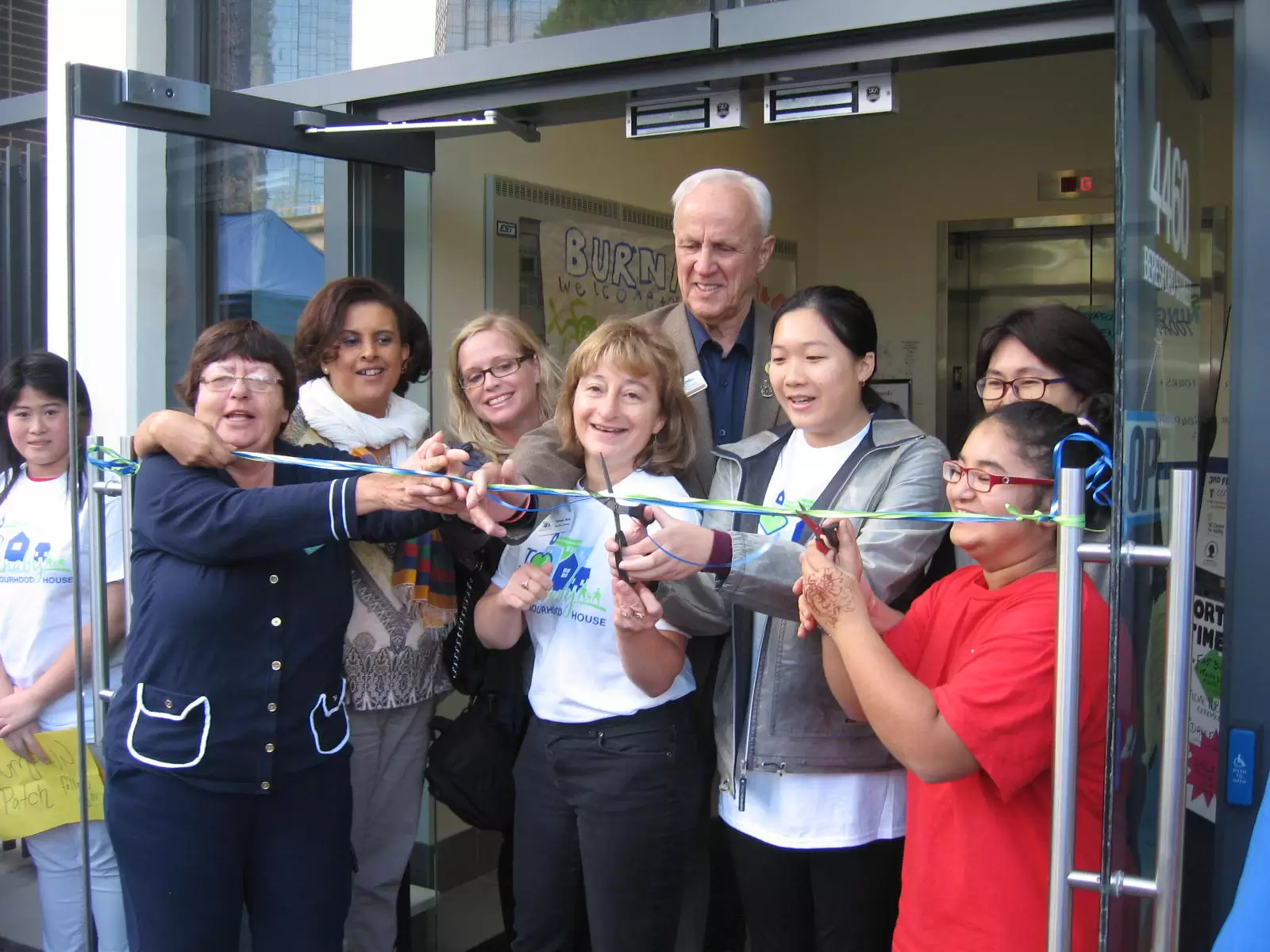 It was a big party and a celebration with our neighbours, staff, volunteers, business supporters, and City officials.
The Neighbourhood House approach and movement was contagious and the South Burnaby Neighbourhood House was asked to deliver programs in North Burnaby. It became apparent that our work was needed all throughout Burnaby.
We responded to a call to establish a Neighbourhood House in North Burnaby. We had the donated location; engaged residents and thankfully some more funding from the Alexandra Foundation to expand the Neighbourhood House movement.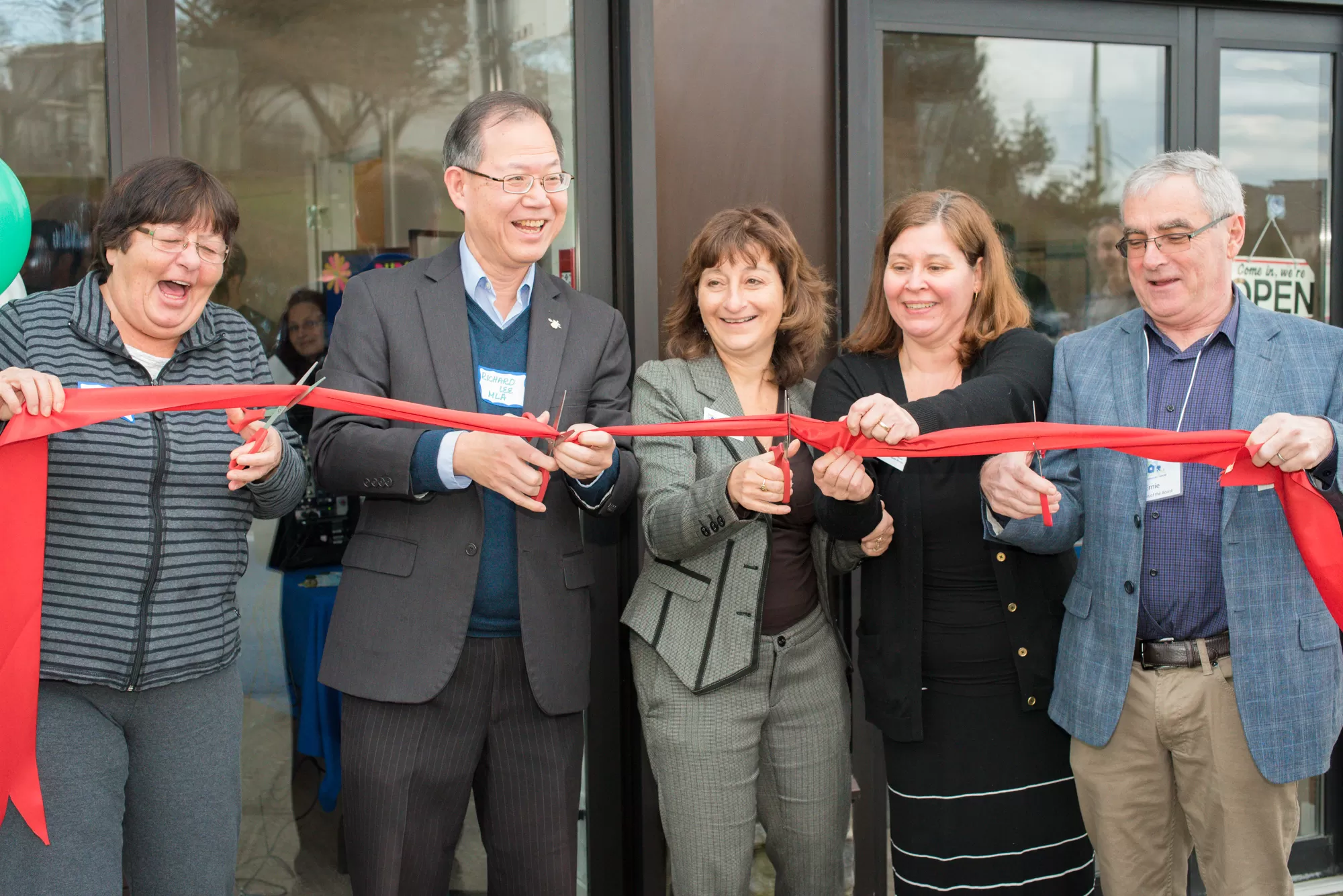 With an emerging second house, we dropped "South" from our name and became Burnaby Neighbourhood House with a South House and North House.
For the next 6 years, Burnaby Neighbourhood House continued to secure funding for programs to operate but most importantly staff and volunteers focused on engaging neighbours as participants but also as volunteers.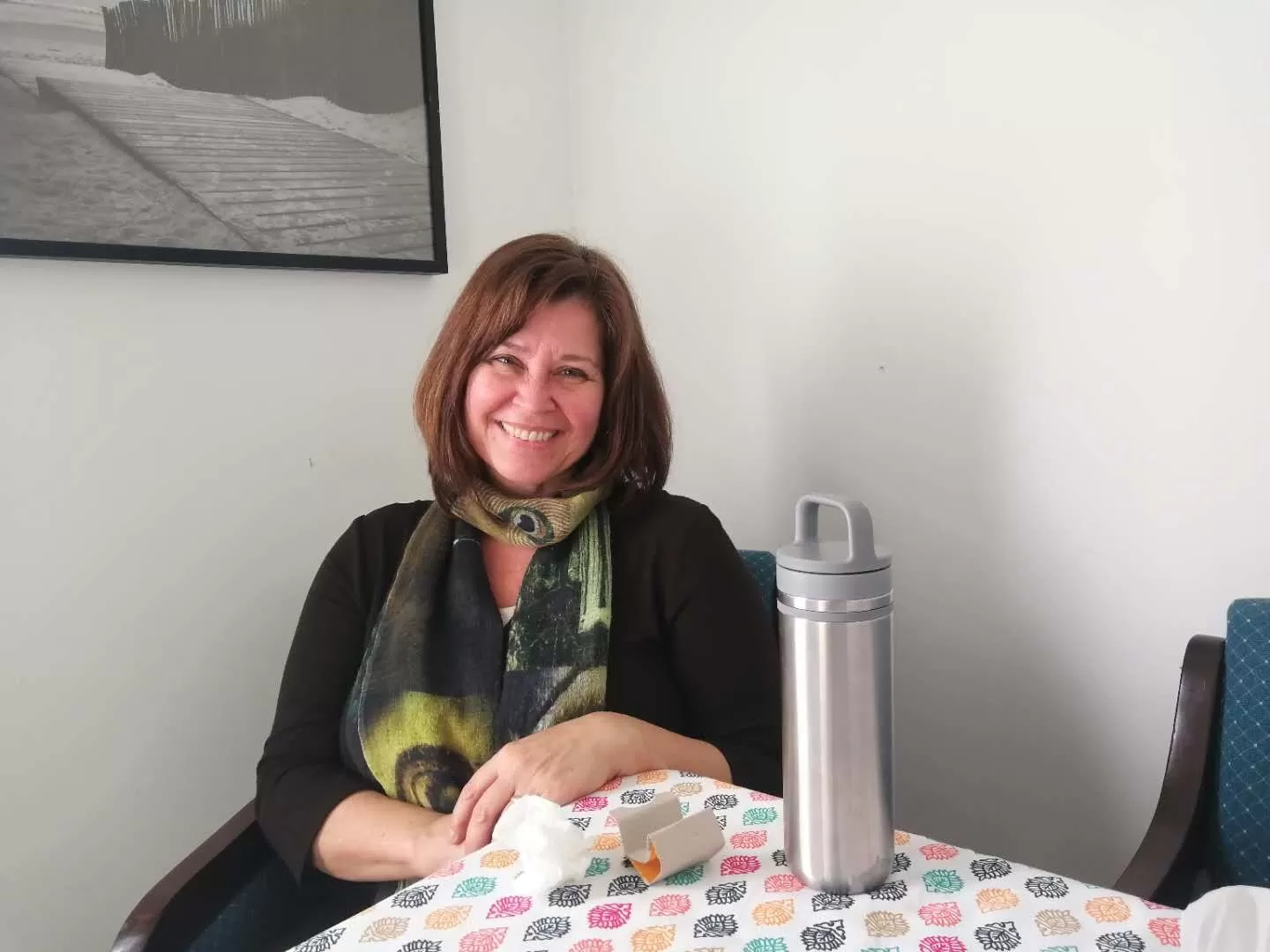 The North House was flourishing under the leadership of local resident and volunteer Simone Brandl who moved into a paid position of Program Director.
Under the leadership of Kimberly Barwich, the South House continued to be a focal point in Metrotown that would bring neighbours young and old together for community building opportunities. We embraced the vision of Connect, Engage and Belong.
In 2020 – another important milestone happened.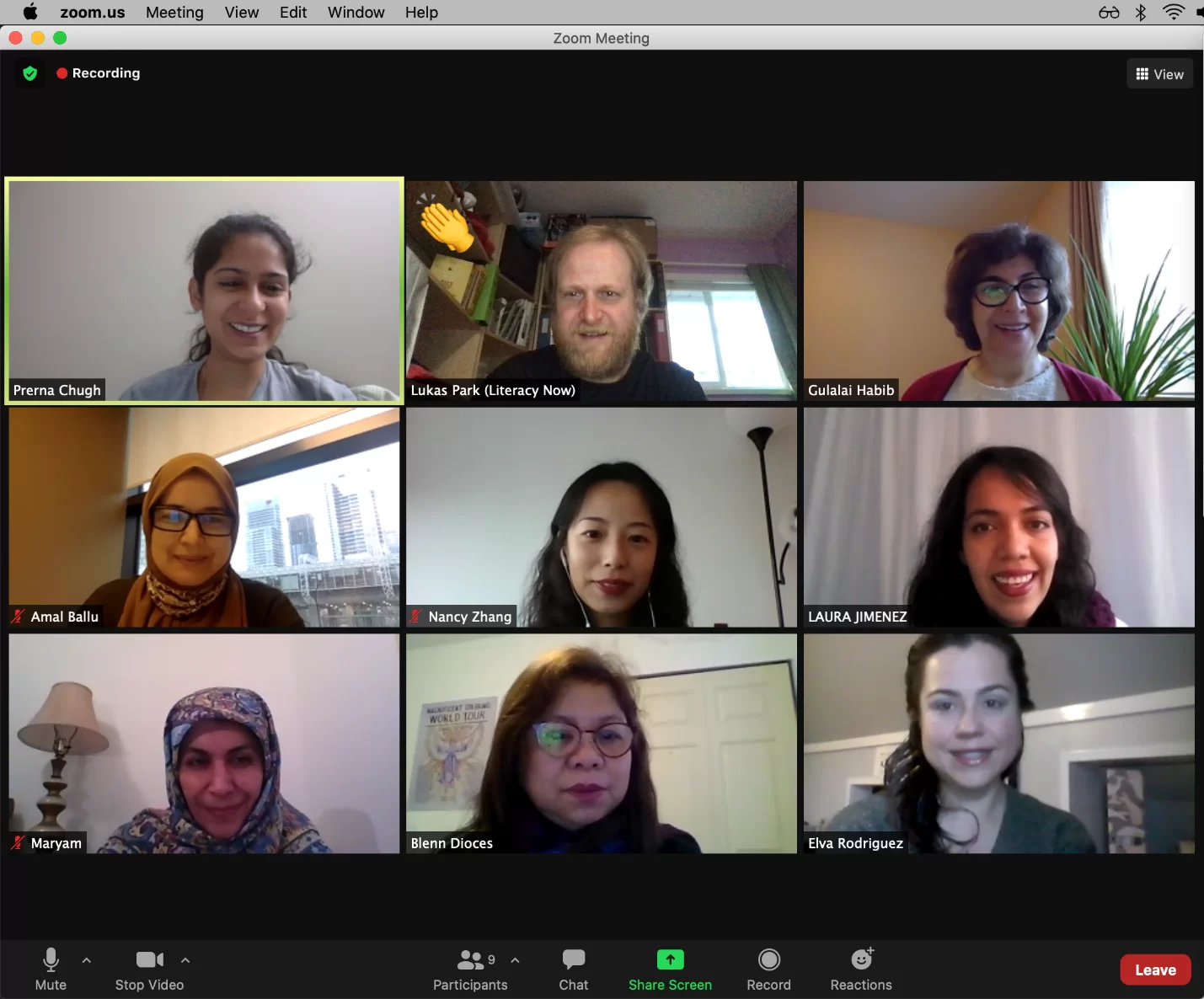 Burnaby Neighbourhood House receives Federal funding to deliver settlement and integration services. Considering that we had been doing this work with newcomer for the past 2 decades it was very exciting to receive the funding to formalize this as a mandate for Burnaby Neighbourhood House. We were equally pleased when Gualali Habib, a long time neighbour with a history of volunteering and working for South Burnaby Neighbourhood House returned home and became our Director of Settlement and Integration.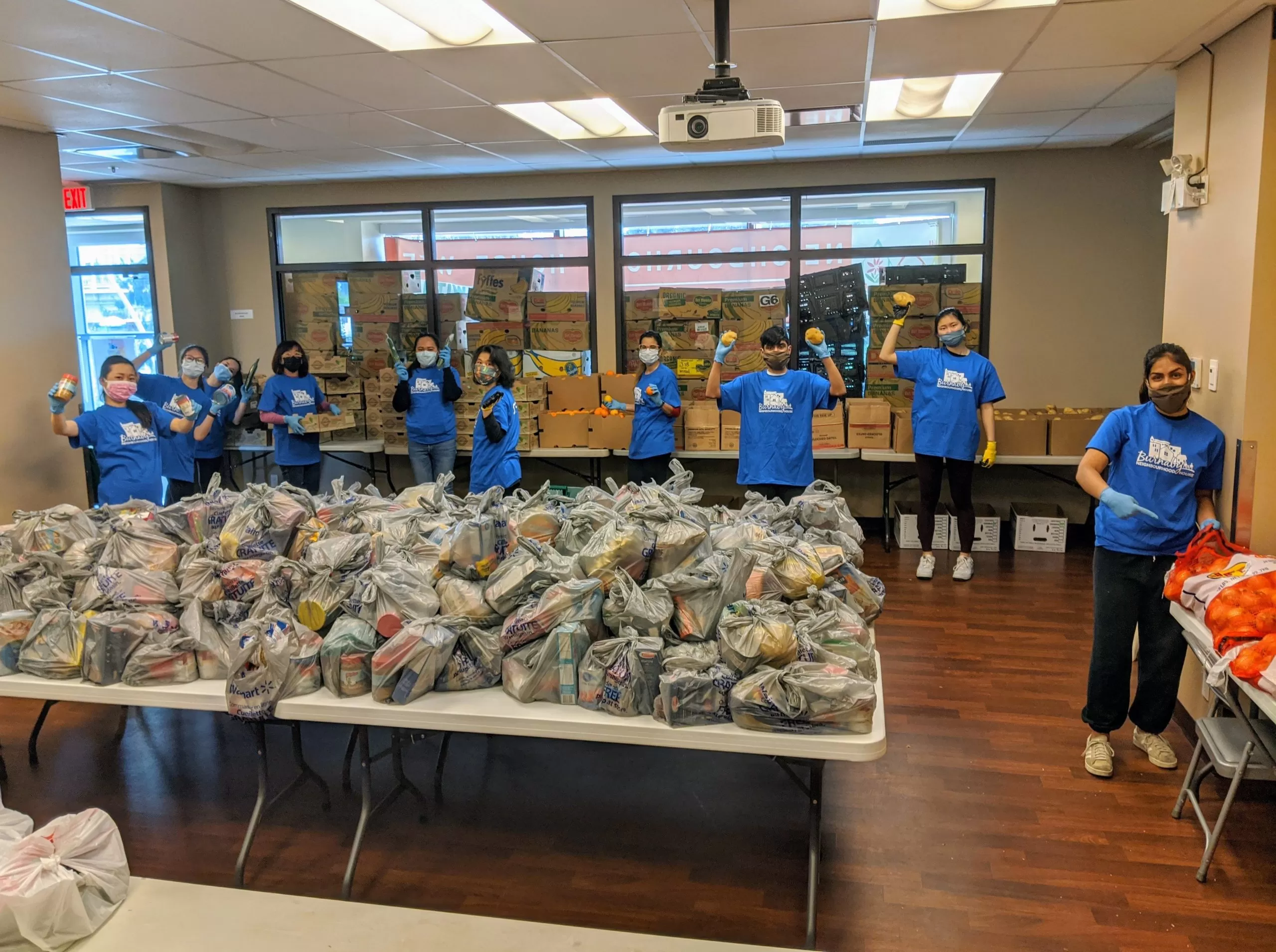 2020 will be remembered as the year when the world changed. As our residents were faced with a health pandemic, Neighbourhood House staff and volunteers stepped up to respond.
Here we are in 2021.
It is 25 years later and Burnaby Neighbourhood House looks a bit different than usual but we continue to be the place that is supporting our most vulnerable residents.
What is clear however is the need for our Neighbourhood Houses to respond to the current urgency needs that have emerged because of the health emergency. Now more than ever, we appreciate all the neighbours, volunteers and community supporters who have stepped up to support our community. Our Neighbourhood House family is strong and will continue to grow as we respond together.
The journey has gone by quickly and so many community builders both staff and volunteers have a little piece of themselves left as their legacy in the Houses that they helped build.
So many times in those early years we as residents could have given up – but we had a dream and together we were strong. Not only did we not give up – we made sure that we became stronger and we made sure the Neighbourhood House magic would be spread throughout the City.
25 years is truly something to be proud of and we look forward to continuing our pathway forward for many years to come.